| | | |
| --- | --- | --- |
| | | |
| | | |
| | | |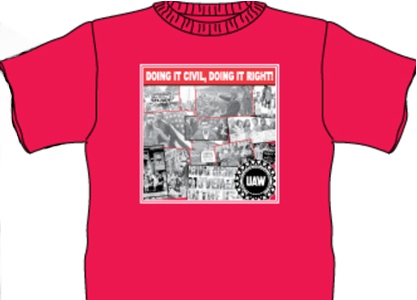 The UAW Local 602 Civil & Human Rights Committee is producing a Civil Rights T-shirt. It will be available in RED OR BLACK Only
Crew neck Small – 4XL OR V-Neck Small-2X
$17 each.
Orders taken until December 13.
Proceeds to benefit furthering Civil & Human Rights Education.
If you would like to order T-shirts, please use the form in the pdf here:
Download:

Doing it Civil Draft for 602.pdf

Join Us
In Decorating
Our Holiday Tree Of Warmth
AT LOCAL 724
Bring in your new or handmade hats, gloves, scarves, or mittens and place them on our tree. We will collect the donations through the first several weeks of December and then get them to an agency in the community.
UAW Local 724


450 Clare St, Lansing
With the Women's & Recreation Committees
Please Join Us On


December 20


From 12:30 P.M. - Until 3:00 P.M.


Santa Will Be Here


Activities For Children
Desserts, Punch And Coffee
The U.S. Postal Service is planning to close the Lansing Mail Processing facility on Collins Road in January. Many of the services formerly provided by the processing facility were moved to Grand Rapids some time ago. If the Post Office closes the facility entirely, mail will take longer and 160 jobs will be lost.
The American Postal Workers Union, AFL-CIO is asking union members and community members to join their rally at the State Capitol on Friday, November 14 from 3:30 to 6:00 to fight this change. There's much more information in the (big) pdf below.
Download:

Keep it Open Info Packet.pdf
The Lansing for Cesar Chavez Committee is having a coat drive along with the Cristo Rey Community Center. If you have any clean, gently worn coats that no longer fit or you don't wear anymore, please drop them off to Dean Poggiali's office at:
The Capital Area United Way
330 Marshall St #203
Lansing, MI 48912
OR
UAW Local 724
450 Clare St
Lansing Charter Township, MI 48917
no later than the morning of November 25.
If you would like a flyer to remind you or to share with others, see the following pdf.
Download:

Cristo Rey coat drive flier 2.pdf