| | | |
| --- | --- | --- |
| | | |
| | | |
| | | |
The results of the Local 602 District 3 Committeeperson election on December 11 are:
Grant Arnold - 36%
Rusty Zeigler - 64% (Elected)
The official announcement is in this pdf:
Download:

Results posting - signed - 12-11-14.pdf
The December 2014 issue of the Labor News is now available online at this link. Individual columnists' articles are under their appropriate Local menus to the left.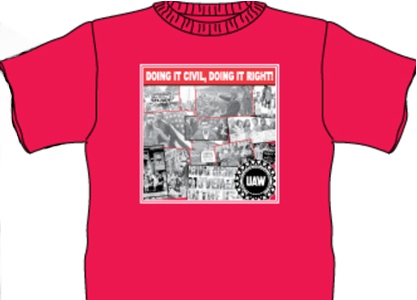 The UAW Local 602 Civil & Human Rights Committee is producing a Civil Rights T-shirt. It will be available in RED OR BLACK Only
Crew neck Small – 4XL OR V-Neck Small-2X
$17 each.
Orders taken until December 13.
Proceeds to benefit furthering Civil & Human Rights Education.
If you would like to order T-shirts, please use the form in the pdf here:
Download:

Doing it Civil Draft for 602.pdf

Join Us
In Decorating
Our Holiday Tree Of Warmth
AT LOCAL 724
Bring in your new or handmade hats, gloves, scarves, or mittens and place them on our tree. We will collect the donations through the first several weeks of December and then get them to an agency in the community.
UAW Local 724


450 Clare St, Lansing
With the Women's & Recreation Committees
Please Join Us On


December 20


From 12:30 P.M. - Until 3:00 P.M.


Santa Will Be Here


Activities For Children
Desserts, Punch And Coffee