| | | |
| --- | --- | --- |
| | | |
| | | |
| | | |
UAW LOCAL 602
GENERAL MEMBERSHIP MEETING
Sunday, November 6, 2016
4:30 PM EXECUTIVE BOARD
6:00 PM GENERAL MEMBERSHIP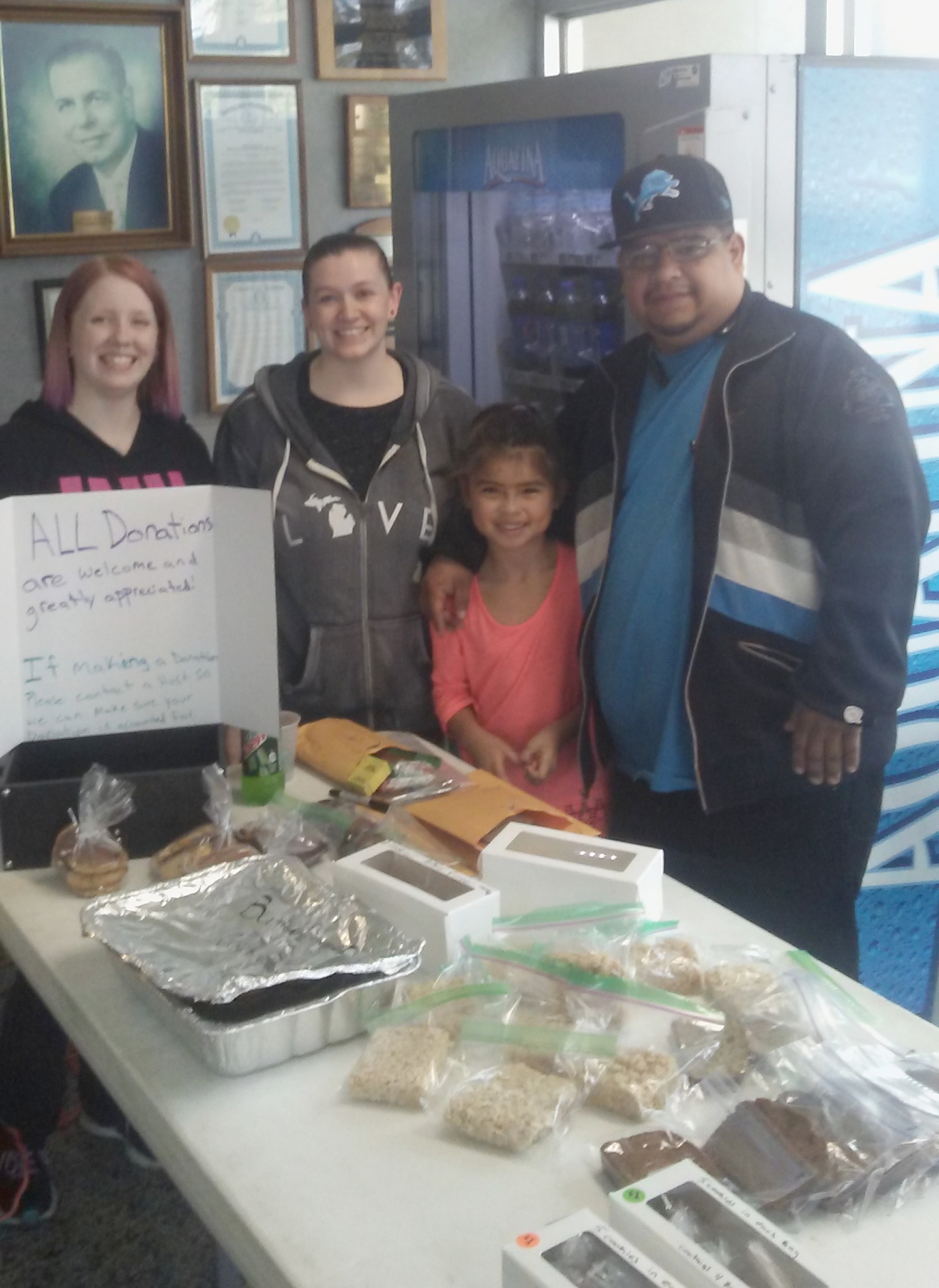 Local 652 President Mike Green asked us to share this story -- and opportunity -- with you:
No surprise—UAW Members step up for injured member.
On September 16, A UAW Local 652 member was struck by a vehicle and seriously injured after she finished her shift. The member is still in Sparrow Hospital and will have a long road to recovery. Union Brothers and Sisters immediately jumped to action to help the injured member at the scene, and once she was off to the hospital, they promptly started to raise money on her behalf.
The Union members at the plant, led by Sydni Malloy, Heather Hough, Carlos Herrera and his daughter Gabriella, organized a bake sale. It was held at Local 652 on October 9 at the Membership Meetings and raised $1,180 for our injured Union Sister.
Team Members are continuing to accept donations on behalf of our injured member. Please contact the Local Union hall for information on how to donate. There is a reason we refer to each other as Brothers and Sisters, because family ALWAYS step up for each other when one is in need. I am continually amazed by the generosity of our membership, but NEVER surprised.
The Labor Education Program at Michigan State University announces that registration is open for a special one-day labor movement briefing on Election 2016: State and National Impacts on Bargaining, Health Care, Employment and Labor Law at the Kellogg Center, MSU, East Lansing on December 5, 2016. The luncheon speaker will be UAW Region 1D Director Gerald Kariem.
This conference is designed to give all participants the latest information on the 2016 election outcomes and impacts in areas of concern to the labor movement: Bargaining, Health Care, the Economy and Employment, and Labor Law.
The one-day conference at MSU's Kellogg Center will take place on Monday, December 5 from 9:00 a.m. until 3:30 (registration and continental breakfast start at 8:30). The conference, which also includes lunch, breaks and parking is being offered at a substantially reduced cost; the registration fee is $50.
Please reserve your seats early – registration closes on November 23. If you have any questions, call John P. Beck of the Labor Education Program at 517-432-3982.
Local 724 President Dean Poggiali says that in the past these sessions have been very informative and worth the $50. For more information on the speakers you can see the pdf below. To register, go to their website.
Download:

Labor Education Program briefing on Election 2016.pdf
The Local 602 Team Solutions Unit will have nominations and election for two positions: Shop Chairperson (remainder of term which expires in 2017) and First Shift Alternate Committeeperson (term expires 2019). Self nominations are October 17-21 and election is November 1-2. Full details are in this pdf:
Download:

Posting of positions 10-10-2016.pdf
The September 2016 issue of the Labor News has been uploaded and is available at this link.
Below is a copy of a viewpoint that was in the Lansing State Journal from Alejandro Albarez, a member of the recently organized Kirchhoff Van-Rob facility. The facility won their election for UAW representation on 8/25 and will be members of UAW Local 724:
Last month, I did something with my co-workers that changes the relationship we have with our employer for the better. We decided to join together to have a voice on the job, voting 60-to-43 at the Kirchhoff Group/Van-Rob plant in Lansing, to join the UAW.
Our facility makes welded metal assemblies for the Camaro, which is assembled just up the road at General Motors' Lansing Grand River plant. When I started at Van-Rob in March 2016, I felt good about starting a new job in the auto industry. After all, jobs in the automotive industry have long been a path for workers like me to build a better life for themselves, one that allows us to balance work and family.
And I was ready to work hard. I know how to work hard – before I started at Van-Rob, I worked in the concrete industry. But for co-workers and I, the work at Van-Rob simply never let up. As the auto industry sets records for the number of vehicles built, my co-workers and I were required, month after month, to work seven days a week. There was simply no end in sight.
Sure, we made a lot in overtime pay with all that extra work, but we had no time to be with our families. How can you when you are at work every single day? I have a wife, Karla, and two small children, ages seven and three. I don't see them as much as I'd like. I'm missing out on family time and experiences like taking family vacations together. No amount of money can make up for that.
Many of my co-workers feel the same way. We decided to do something about it.
It wasn't easy. In the two months from when we first reached out to the UAW to the day of the election, management tried hard to divide us and discourage us from joining together. But we took care of each other and made that vote work for all of us.
I'm so proud of what we've accomplished, and I see now what workers can do when we stick together. I hope that workers at Van-Rob's other nonunion facilities in Ohio, Tennessee and Texas see what we have been able to accomplish and take the first step at their plants, too.
Now, we begin the next phase – forming a bargaining committee and negotiating our first contract. At my last job, people started at the bottom and worked their way up. You earned your stripes and didn't cut ahead in line because you were friends with the boss. Why? Because we had a contract.
We know that we probably won't win every change that we want at Van-Rob. But we also know that the first time we sit down with management across that negotiating table, my co-workers and I will finally be treated as equals.
This is a new path for us, and we're enthusiastically looking forward to practicing our right as workers to form a union and then negotiate with management. It's up to Van-Rob workers to make fairness a reality as we take an active role in our futures, in our union. With our vote, we took our first step toward that goal. Now I can say I am a proud union member. Solidarity.