| | | |
| --- | --- | --- |
| | | |
| | | |
| | | |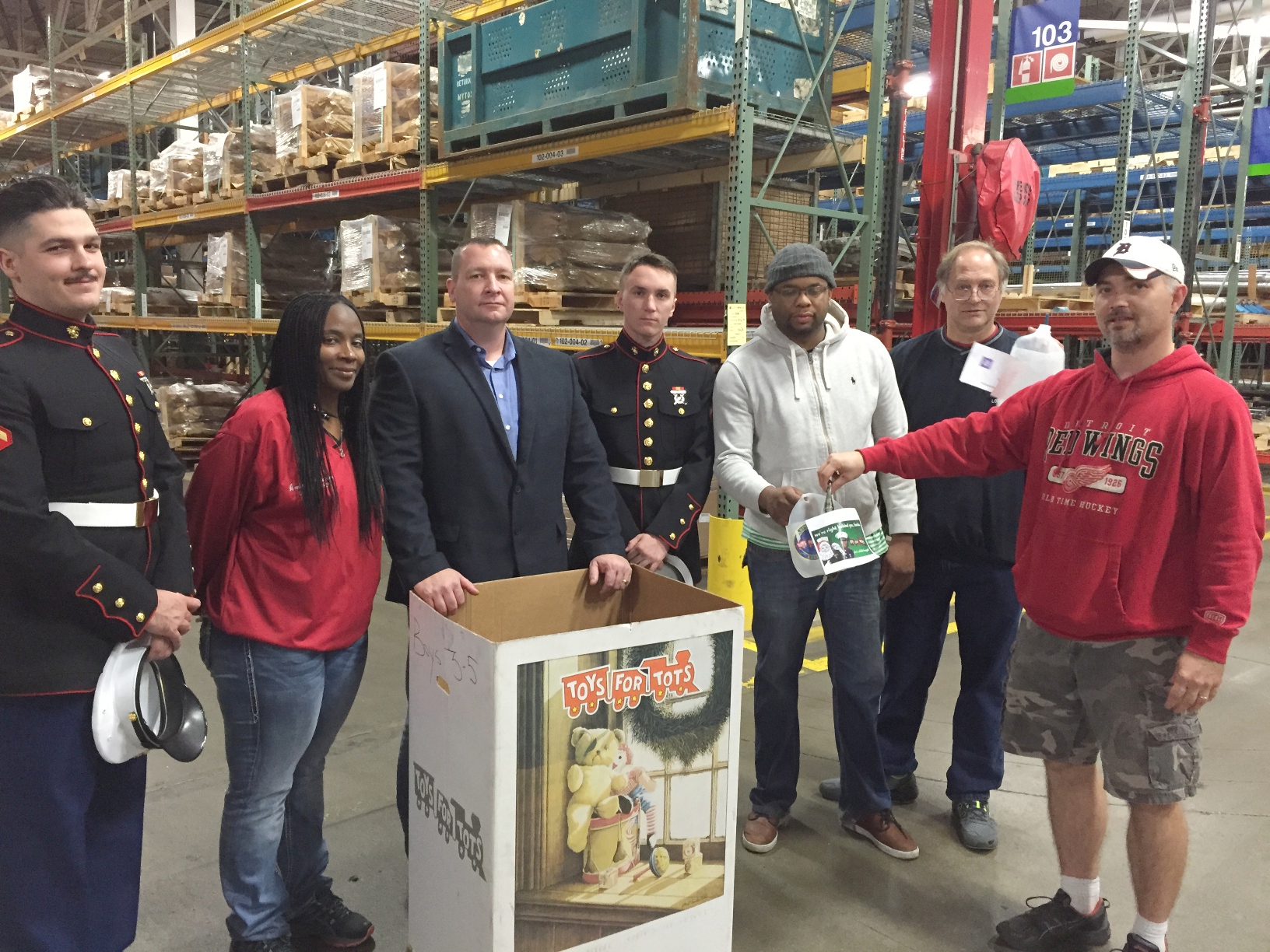 Marines were in the warehouse on Friday, November 6 to help kick off Local 1753's participation in the annual Toys for Tots campaign that is sponsored by the U.S. Marines. It helps to collect toys and raise funds to provide toys for children whose families may have a hard time providing Christmas gifts. In this picture, left to right, are Lance Corporal Travis Fountain, Shop Chair Arniece Stephenson, Plant Manager Lynn Behrens, Lance Corporal Albert Rivera, Community Service Chair Josh Webb, and President Hollis Barker, who are all welcoming the donation from one of the Local 1753 members.
Local 602 members have voted against the local contract. Production workers voted 47% Yes, 53% No. Skilled Trades voted 23% Yes, 77% No. The official notification is in the following pdf.
Download:

LocalCtrctVoteResults 11-11-15.pdf
The UAW's statement on the vote this past week:

Detroit, Mich. — Today the UAW concluded a week-long ratification process concerning a tentative agreement negotiated between the UAW and General Motors LLC. A majority of UAW members at General Motors have voted in favor of the tentative agreement, as follows:

Total National Agreement bargaining unit results

Production 58.3% Yes 41.7% No
Skilled Trades 40.5% Yes 59.5% No

Overall 55.43% voted for the agreement; 44.57% voted against the agreement.

The UAW has not deemed the tentative agreement ratified. Rather, in accordance with the UAW's Constitution and applicable administrative guidance, the UAW will hold meetings with its UAW-GM Skilled Trades membership at each worksite over the next several days in order to determine what reason(s) they had for rejection of the tentative agreement. Once that inquiry has concluded, the UAW's International Executive Board shall meet to determine what appropriate steps shall be taken. The results of this process cannot change aspects of the agreement which are common to all members

Salaried Master Agreement

100% voted for the agreement; 0% voted against the agreement

The Salaried National Agreement has been ratified.
Local 602 members approved the national contract with a 53% yes vote. Production workers voted 54% to 46% in favor of the contract. Skilled trades voted against it, 57% to 43%. The official announcement is in this pdf:
Download:

UAWGM RatResultsOFFCL.pdf