UAW Local 1618
Retiree Columnist Lois Schultz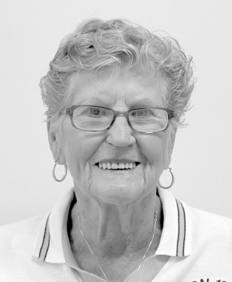 1618 retirees
Hi out there, all you wonderful people.
We have a trip going to Four Winds casino on the train on August 3. It's $57 for seniors and $67 for others; you do not have to be a member to go. Call Connie Dunn to get on the list, at 517-323-2146. She will take care of you.
May birthdays were: Willie Anthony, doris Williams, Betty Varney, Minnie Gill, Tim DeCorte, Jorden Fox, Jade Fox, and me, Lois Schultz with the big Nine-O – 90!
Anniversaries: Nolan and Ardie Douglas, 65 years; Dick and Barbara Kline, 49 years.
We will be playing Bingo after our retirees meeting on June 14. We do have a good time!
The Area Retirees Luncheon will be at the Royal Scot on August 8, doors open at 11:00 a.m., eat at noon.
Dan Bryant stopped by to see me. He goes to Florida in the winter.
Condolences to the family of Richard Slocum. He leaves his wife Millie.
On our sick list: Jim McInnon's wife has been under the weather this past winter. Ben Smith is in hospice. He was a welder. He worked in all the plants.
The Lawyers
A new case can be opened by calling 1-800-482-7700. Eligible participants will include active and retired UAW-represented employees at FCA, Ford, and GM and their surviving spouses.
Services include: wills and trusts, purchase or sale of residential real property, uncontested family matters, contracts for goods or services, birth and marriage certificates, power of attorney, deeds, credit reporting, residential lease, and name changes.
"Office work" services will include advice, document preparation, document review, factual and legal research, and correspondence. No representation will be provided by the Plan in court or in any litigation situation. In addition to office work services, the Plan does provide UAW members and retirees with full representation, including attendance at hearings, for Social Security disability applications, suspensions and terminations. For many legal matters that are not covered under the new Plan, or that require court activity, the Plan intake staff can still process a participant's inquiries. Such matters will be referred to outside private cooperating attorneys, who will provide legal services to Plan participants at a reduced legal rate.
My phone is 517-543-5385. I want to thank all my friends at the plant, at LAFCU, retirees, and Area Council, and Harold and Tim at the Labor News. What wonderful friends.
Page Last Updated: Jun 05, 2017 (10:49:00)