UAW Local 1618
Retiree Columnist Lois Schultz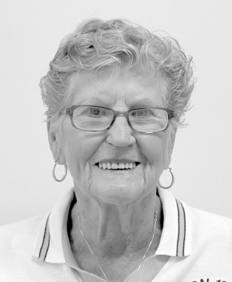 1618 retirees
Hi out there, all you wonderful people.
We still meet the second Wednesday of the month (except in August). We eat at noon, have a meeting, then play bingo, with our new bingo machine.
I went to stay with Jim and Celia Anthony in Grand Ledge for two weeks. Celia takes good care of me. Their daughter Jessica Anthony just got a new house in Lansing.
Most people can't hear me when I try to talk, as my vocal cord is paralyzed on the left side. But I can still write the column to let you know what is happening!
We have had lots of calls about the new legal service. It is now called UAW-FCA-Ford-General Motors Legal Service. The plan went into effect on January 27. So write their number down: 1-800-482-7700.
The Region 1D Retiree Travel Committee will have trips to Myrtle Beach in October and an Alaska cruise in August. See the Travel box on this page.
If you need our benefits rep, Joe Sagy, he is a good one to call: 517-372-7201 or 1-800-782-6513. He will call you back.
There could be a casino trip to Mount Pleasant, Odawa, Turtle Creek, Traverse City. $101.50 for non-members, $51.50 for dues-paying members. We need 40 people. Call Connie Dunn at 517-323-2146.
Happy birthday: Jerry Hunt, March 14; Ted Gauss; Artie Douglas in February; Bud and Jan Miller, February 22; Dick Torgerson; and in April, Canda Anthony and Connie Dunn.
Happy anniversary in January to Bud and Jan Miller, 48 years!
Ted's breakfast will be on March 21 at Spud's restaurant on Waverly. Call Ted at 517-321-4751.
Lester Altoft was 83 on February 27. Marv Baker went to see him. He was fine, but having some difficulty taking care of his sick wife, so his daughter comes and helps.
Bill Prestman called to say hi to all from the U.P.
Condolences to the family of Gary Thomas, who passed away at age 78. He went to live in Florida about five years ago. He leaves his wife Dolores. He worked at Plant 2 for 39 years.
Condolences to the family of Jerry Earl Green, Sr., 78. He leaves his wife, children, grandchildren, and great-grandchildren. Pa Green was a great neighbor to us and he will be missed.
Condolences to the family of Joe Bancroft, who passed at age 74 and leaves his wife Vickie.
Page Last Updated: Mar 16, 2017 (08:10:00)