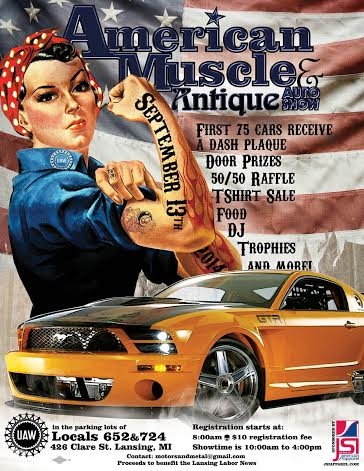 Fourth annual American Muscle and Antique Auto Show - September 13
The only show devoted to American-made autos, hosted at Local 652. All proceeds go to the Lansing Labor News to help fund the paper you're reading now. The show is open to the public and free to attend. It will be in the parking lots of Local 652 and 724 on Clare Street in Lansing.
The show will run from 10 am to 4 pm with registration beginning at 8 am. The cost to enter a vehicle is only $10. There will be lots of door prizes, raffle prizes, great music, food, and fun for all ages. So please join us!
We are looking for sponsors to help with the event by donating door prizes, raffle prizes, and to be a Major sponsor, to help with the food cost, trophy sponsors and monetary donations to LLN. Also, if anyone has a product to display or sell, we will have some booth space available with a donation to the LLN. If you know anyone who has an American-made vehicle, we would love to have them display it. Any year is welcome. New this year, we will have an award for the Local that brings the most vehicles to the show that belongs to their members.
If you have questions please contact us at (517)896-8317 or email motorsandmetal@gmail.com. Thank you – Matt and Jill Bowen, American Muscle & Antique Auto Show Chairs